Support information for the 2020 N4TLF article about 3D printing.
I now have two Creality CR-10s Pro 3D printers.  The second one was purchased locally from someone that became very frustrated with 3D printing.  Interestingly, that printer has worked fine for me since the day I received it.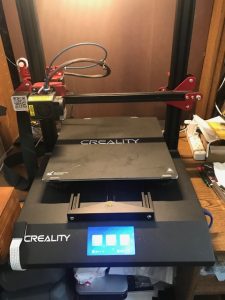 One of the ham radio related projects that Mel, W4MEL, and I have used our printers for was to "build" an enclosure for our PA0RDT LF active antennas.  Mel did the design work in OpenSCAD, then used Cura to slice them into STL files for printing.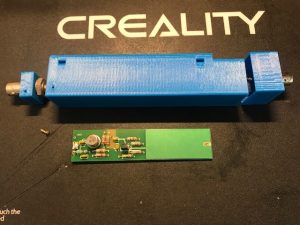 As can been seen, there are three pieces to this enclosure.  To the right side is the top cap, where the whip antenna plugs in, then is the main body (with small slots for cable-tie mounting), then the bottom cap, with the BNC connector for the coax cable to the shack.  Here are the design files for the enclosure:
Mel PA0RDT enclosure OpenSCAD files melPA0RDT
OpenSCAD is a 3D design program that uses a C-like format to describe an object,  rather than an "artistic" design program.  For fairly simple objects, it can be a fast, easy design process.
ARDUINO UNO BOX WITH SLIDING TOP
This is a small enclosure for an Arduino Uno, with a sliding top from Thingiverse.  Note that it is of limited value, as it's hard to put any wires through the slots in the top, and then slide the top on!  You should print the main box at about 102% size, so everything fits.  The design files can be found at: https://www.thingiverse.com/thing:212754
SMALL HF MAGNETIC LOOP STEPPER MOTOR MOUNT
This is a mount that I designed for the tuning stepper motor on a 20 to 10 Meters HF magnetic loop that was being built in Charleston, SC.  It is made of ABS, and was printed on my old Printerbot Plus model 1404.  I also printed some spacers to keep the loop at a controlled distance from the 2×4 wood.