Microwave Broadband and Mesh Networking
Hams have been experimenting with microwave since it was first around.  It has been an esoteric area of ham radio as great skill and expertise is required to design and build at these frequencies.  About 15 years ago innovative hams discovered that inexpensive, readily available ISM band WiFi routers could be repurposed as microwave radios for a number of applications.
An early project was High Speed Multi-Media mesh network (HSMM-MESH).  It has matured into Broadband-Hamnet  This project has forked to Amateur Radio Emergency Data Network (AREDN).
Both networks support Ubiquiti M2, M5, and M9 family members (2.4 GHZ, 5.8 GHz, and 900 MHz radios).  In addition HSMM was developed for and supports members of the the Linksys WRT-54 family. There is a new release of AREDN for the Ubiquiti M3 family that operates on 3.4 GHz ham band to yield 24 new non-shared channels.  The Ubiquiti M3 line is designed for sale and operation outside the US and at first was difficult to purchase in the US, but now dealers are comfortable selling to hams, as hams have an allocation at 3.4 GHz.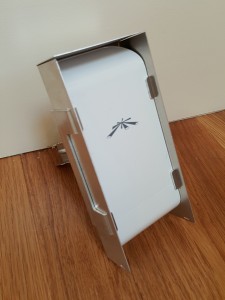 Ubiquiti M2 Nanostation wearing it's RF Armor shielding
 Ubiquiti M5 Nanobridge Dish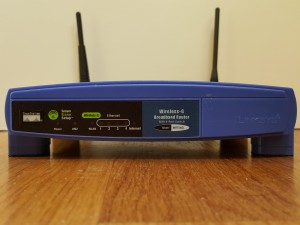 Linksys WRT-54GL
Hams have frequency and higher power privileges in channels close to the ISM channels in the 2.4 and 5.8 GHz bands.  In the 2.4 GHz band there are two non-shared channels (-2 and -1) and six channels shared with ISM use (channels 1 through 6).  In the 5.8 GHz band channels 178 through 184 are not shared.
Using the higher power available in the ham bands very long links have been established with highly directional antennas and amplifiers.  The current record (as of 9/6/2015) is 237 miles
A mesh network is a network topology in which each node relays data for the network and all mesh nodes cooperate in the distribution of data in the network.  Using decentralized routing algorithms, meshes can be made to be easy to set up and highly robust.  The Linsys and Ubiquiti routers are actually small Linux computers.  Router hackers have discovered that it was possible to write code for the routers to enhance the functionality and security of the factory software (i.e., dd-WRT and openWRT).  So mesh networks on cheap were a early ham development.  These mesh networks have been adopted by many ham clubs and ARES/RACES organizations.  They have been used by clubs for activities like supporting field day and community events.  ARES/RACES will use these networks to help in emergencies.  A number of community wireless networks have also been set up and operate under Part 15.
 Highspeed Hamnet/MESH Networks
Terry WA5NTI provides the following information:
After my brief description of the Broad Band Hamnet / MESH project out here in Prince William County, several folks have ask for specific details relating to exactly what our two clubs have bought and are testing with.  Attached below is the information for both the 2.4 GHz and the 5.8 GHz devices.
Also, note that we are planning on also getting a couple of the new 900 MHz routers/dishes to see if these can penetrate the trees better due to their longer wavelengths down at 900 MHz.
NanoBridge M9 Airmax, with its integrated 13 dBi Wireless Antenna, 900 MHz, White – Item SKU: 202 0351:
http://www.cyberguys.com/product-details/?productid=60398
Related Resources Online
Wireless Networking In The Developing World – covers a number of topics pertinent to wireless networking.  Free download
Mid-Atlantic Net Map and more! – Information on local broadband networks and activities, equipment and related articles.
You can find and download a copy of  the "airOS Users Guide" – note that Ubiquiti devices use the 'airOS' operating system and that OS comes with a free Signal Analyzer feature described in the User Guide.